Today, the prospect of working independently and being your own boss is attractive to a growing number of individuals.
The perks include flexible work schedules, an opportunity to work from home, accelerated income growth, and the usage of multiple skills as you build your business.
If you are looking to launch your own business without high startup costs, or the hassles of hiring a team, you can consider pursuing affiliate marketing. This opportunity empowers you to work independently, leverage your skills creatively, and earn an income.
In this blog, let's understand the benefits of affiliate marketing and how to get started and build your niche as an affiliate marketer.
What is Affiliate Marketing?
The growth of affiliate marketing was triggered by two trends among businesses and internet users.
In a digital world, the cost of customer acquisition for businesses is continually rising. Spending millions of dollars on digital advertising is not sustainable for businesses, as it eats into profitability.
To stay profitable, businesses must continually get creative and find new ways to acquire customers at lower costs. Affiliate marketing has thus emerged as a cost-effective marketing approach.
The success of affiliate marketing rides on the second trend. Today, more internet users are organically creating content and growing their following on their blogs, social media pages, and other channels.
Affiliate marketing enables content creators to monetize their audiences by becoming a voice for brands, products, and services they trust. Affiliate marketers promote products or services to their audiences and earn a commission on every sale they make.
How is this different from being a salesperson with a company? For one, you are not an employee of the business. You are a free agent who chooses to be an affiliate marketer for multiple companies. Two, you can work at your own pace and design your own schedule. Essentially, you own your time.
Parties Involved in Affiliate Marketing

Here's a quick rundown of the various stakeholders involved in the affiliate marketing cycle:
Creator of the product/ services: This is the company or individual that creates or manufactures and markets the finished product. The creator business offers a commission on every sale made through affiliate marketing.
Affiliate networks: Alternatively, affiliate marketers can work with affiliate networks that host a wide range of products from different companies. In this case, the affiliate marketer engages directly with the affiliate network and not the company.
Affiliate marketer: This is an individual who promotes products and services via their blogs, personal websites, and social media pages and earns a commission every time they make a sale.
Customers: Those who buy the product or service based on the affiliate marketer's influence are important stakeholders in the affiliate marketing process.
How Affiliate Marketing Works
The affiliate marketing cycle typically flows like this:
You need to sign up with a business directly or with an affiliate marketing network. Companies and affiliate networks may brand their programs in different ways. For instance, they may refer to them as partners or referral programs.
You will need to undergo an onboarding process where you get familiar with the terms and conditions of the affiliate marketing association, as well as the product and services of the company.
Next, you can start leveraging your social media pages, messaging app groups, online forums, blogs, and other curated platforms to start marketing products via posts, stories, and webinars. To make a sale, you need to embed links in your content, which take consumers to the point of sale where they can make the purchase.
The company will then send the products to the customer.
Once the sale goes through, you receive a commission from the company/affiliate network.
Make Affiliate Marketing a Win-Win
The key to being a successful affiliate marketer is to never compromise on the value of trust.
The reason why consumers make purchases through affiliate marketing is that they trust the voice, experience, and recommendations of the influencers they follow. Hence, affiliate marketers need to vet the brands, products, and services they recommend and market.
It also helps if you have some form of domain expertise or insider knowledge connected to the products you market.
For instance, mummy bloggers are best positioned to recommend products to mothers. Having said that, affiliate marketers can also build their domain expertise and understanding by putting in the work to familiarise themselves with the various products in the markets.
Never promote random products, or make your content too salesy, as it then starts resembling an ad, as opposed to a content piece that is useful, educational, and persuasive through its innovative storytelling.
Affiliate Marketing vs Other Businesses
Setting up an affiliate marketing business comes with several benefits and perks. Here is a snapshot of core benefits:
No set-up costs: Most businesses have some type of set-up costs; either you rent the space, hire people or invest in expensive infrastructure. However, this is not the case when setting up an affiliate marketing practice. All you need to do is work on creative persuasive content on your existing content channels and start posting content along with embedded links.
Zero risk: Unlike traditional multi-level marketing opportunities, you do not need to invest in buying the products before marketing them. Hence, there is absolutely no scope for incurring losses in case you are unsuccessful at making a sale. With absolutely nothing to lose, this opportunity comes with zero risk.
Wide range of opportunities: The market is flooded with affiliate marketing opportunities in various domains – from food and pet care products to electronics and software. Hence, you get to partner with an affiliate marketing program that connects to your interest and domain expertise.
Build a remote business: There is a growing culture of professionals aspiring to work remotely or from any location. This arrangement helps you prioritize caregiving needs, work-life alignments, and side hustles alongside your affiliate marketing practice. If travel is your passion, you can also be a digital nomad while pursuing affiliate marketing.
No qualification barriers: Some businesses require you to have specific expertise or a professional credential for compliance and credibility. This is not the case with affiliate marketing. All you need is an interest, strategy, perseverance, and hard work to be successful. If you don't already have a following, you can always start building it.
Grow your income: There is no cap on the amount you can earn since you function as a free agent who can partner with multiple businesses and affiliate networks. In some cases, the commission on a product can be as high as 50%.
Grow your network: In a business like affiliate marketing, your network is your net worth. You are continually evangelizing new products to a growing audience. This journey increases your reputation as a trusted source and authority in your domain.
Top Affiliate Marketing Strategies for Influencers
Many aspiring affiliate marketers are concerned about what platforms to use when promoting their products. Here is a snapshot of the multiple channels that can be creatively leveraged:
Creatively Plug Products on Your Social Feeds
Today, more and more social media users are interested in social shopping, also known as social commerce. Attractive photographs and brief but useful text can pique a user's curiosity about the product you are looking to promote.
Leveraging platforms such as Facebook, Twitter, LinkedIn, and Instagram, where you have the most influence, is an effective way to build your practice. Choosing the right platform is equally important.
For instance, if you are marketing pet care products, Instagram can be a good fit. On the other hand, if you are marketing productivity software, doing a LinkedIn post could be more relevant. Ensure the embedded link is easy for the user to find and click on.
Write Powerful Blog Posts
A blog is an effective content format for marketing products and services because it lets you showcase their benefits and impact in detail. You can also leverage the benefits of Search Engine Optimisation (SEO) to enable the discovery of your content.
There are several article formats that you can experiment with – listicles, how-tos, benefits, impact stories, photo galleries, FAQs, and personal narratives.
Keep the content crisp, ready useful, and easy to consume. You can run it through plagiarism and grammar tools to enhance readability and credibility. Make sure that the embedded link is prominently visible.
The last step is to actively promote across all your social media feeds and messaging app groups to build visibility for your blog post.
Post YouTube Videos
YouTube videos are a popular and powerful medium to promote products and services. It is extremely easy to shoot and edit consumable videos.
These videos can be posted on your exclusive YouTube channel and embedded in your blog post. The affiliated link must be included in the video description of your YouTube pages.
Also, ensure you use all the relevant keywords in the text spaces to trigger SEO. Short videos work better as consumers have limited attention spans.
Host Webinars
Today, people around the world are willing to attend a webinar if it gives them useful, actionable information.
For instance, if you are marketing makeup, you can host a webinar on how to apply makeup for different occasions. If you already have a following as a social media makeup influencer, it will be easy to gather an audience for a live webinar.
You can respond to questions during the webinar and promote your affiliate marketing link. Once the webinar is over, you can edit the replay into multiple videos and repurpose it as content for your social pages and blog, along with the affiliate marketing links.
Offer an Incentive
There might be several affiliate marketers promoting the same product in a category. So how do you make your pitch stand out?
You throw in a bonus or giveaway, which is only available on your affiliate link. The bonus could be an additional product that complements what you are marketing. It could also be something completely different but useful.
For instance, an exclusive Q&A with you to answer their queries on a specific topic you are an expert in or a free eBook
Leverage Your Email List
A large number of consumers continue to read emails if they find them useful and relevant. Hence, email can be a critical pillar in your affiliate marketing arsenal.
Building your mailing list is a constructive investment of time and effort. However, you don't need to embed affiliate links in your area, as this may appear like a sales pitch.
Instead, you can provide links to content on your blog, social media pages, and YouTube channel.
Promote Your Content on Other Websites
As an affiliate marketer, you will probably collaborate with other influencers and experts whom you feature in your blogs and other pages. You can request collaborators to feature your content on their websites.
Another approach is to publish articles on other people's websites that offer and link back to your blog. Your blog's presence on other websites builds credibility, which enhances SEO results in the long term.
How to Earn via Affiliate Marketing if You are Not an Influencer


You may start to believe that affiliate marketing is only for established influencers. But this is far from true. This profession gives an opportunity to all types of people who are committed to building a business.
Today, consumers are consistently looking for better deals when shopping. With rising inflation, they want higher discounts on the products they buy. But they are also looking to purchase products from legitimate sources.
Here are three popular discount formats that affiliate marketers can build into their business:
Several affiliate marketing programs specialize in offering coupons, which need to be distributed to a wider audience. So, why not launch a coupon website that becomes the trusted, go-to destination for consumers seeking the best coupon deals?
Another popular type of consumer-focused website is one that compares product prices. For instance, if a consumer is looking to buy a new blender, they would visit a trusted price comparison website to get the best deal. They may also be inspired to make a purchase on your website, which results in you making a commission.
The third type is cashback website. Finding actual cash hitting one's bank account when making a purchase is a satisfying feeling for many consumers. So, you can build a website that enables consumers to seek legitimate cashback opportunities.
Today, it is easy to set up coupon, price comparison, and cashback sites, as readymade, eye-catching, feature-rich WordPress themes are available.
The key to success is to identify the best affiliate marketing partners and choose a website partner that enables you to set up your website seamlessly.
Golden Rules for Affiliate Marketing Success
Think of affiliate marketing as a marathon and not a sprint. You need to invest a certain amount of effort and time to build enough traction to generate a sustainable income.
Market high-quality products and services, or else consumers will have a trusted-reducing experience. This may deter them from purchasing a product via your affiliate links in the future.
Vet the companies that you partner with extremely well. Some businesses are not legitimate and may exploit affiliate marketers.
Partner with a superior website setup partner when setting up a coupons/cashback/price comparison-focused website.
In Conclusion
Affiliate marketing can be an engaging, fulfilling career path for those who do it with creativity and passion. Hard work and perseverance will help you establish yourself as a high-trust influencer and help you build a sustainable income. This is exactly why it is one of the top online business ideas from home.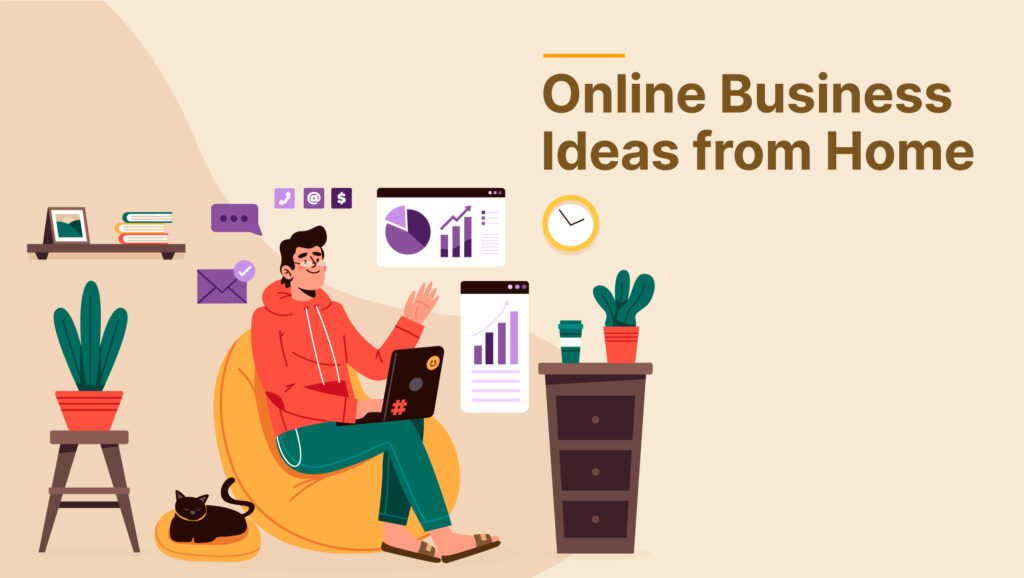 Affiliate marketers can take their business to the next level by investing in the right tools. Clipmydeals.com's comprehensive WordPress Affiliate theme enables coupons and deals, cashback, coupon feed integrations, and price comparisons and is compatible across iOS and Android platforms.