With the proliferation of online shopping and e-commerce brands and channels, affiliate marketing has emerged as a viable means of supplementing one's income. I'm sure you must have seen this yourself at some level.
Today, brands can reap the benefits of increased sales, and affiliates like you and me can earn money for promoting their products and services. However, to launch a profitable affiliate marketing coupon website, you need to identify the best niche that brings immense traffic to the site and sets you apart from the competition.
Therefore, in this article, I'll discuss some of the best ways to figure out the most profitable niches for an affiliate marketing coupon website. So, let's delve deeper into them.
1. Bank on Your Interests and Passion
One thing I can say with experience in the domain is that if managed properly, an affiliate marketing coupon website can bring in significant revenue for years to come. So, you must start with a solid business strategy. Finding niches should naturally commence with your individual areas of interest and passion.
You probably already buy these products anyway, right? So you can relate to consumers' perspectives on them. You only need to ascertain whether or not they'll thrive as an internet venture.
Think about products that interest you or that you enjoy using. Be ready to put in a lot of hours researching and getting to the depth of this niche.
The process of learning relies heavily on both success and failure, so remember that. By focusing on a dynamic niche you're passionate about, you can boost your learning rate, maintain momentum, and develop specialized knowledge.
2. Perform Extensive Research on Popular and Trending Niches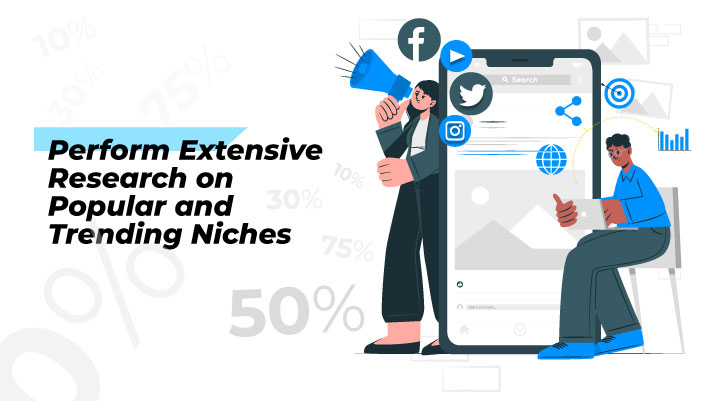 You need to take a methodical approach to investigate hot and trending niches for your affiliate marketing coupon website if you want to find ones that are not just prominent but lucrative too.
If you have no clue where to start, I recommend using keyword research tools to find high-volume, low-competition keywords linked to potential niches.
To find keywords associated with your niche of interest and analyze their search traffic, competition level, and cost-per-click (CPC) statistics, employ tools like Google AdWords Keyword Planner, Ahrefs, or SEMrush.
Believe me, this data has helped many leading affiliate marketing websites to zero in on markets that are likely to be profitable due to their high demand and low levels of competition.
You can also find out what people are interested in by monitoring niche-specific social media sites and online forums. Plus, don't forget market saturation, customer demand, and long-term prospects.
You can improve your odds of success and create a long-lasting, financially rewarding affiliate marketing company by taking a thorough, data-driven strategy for niche selection.
3. Always Keep the Target Audience in Mind
Researching and understanding the expectations, interests, and pain points of your target audience is essential. You can begin by settling on a target audience segment, such as first-time parents, gym enthusiasts, or animal lovers.
To determine which products and services will be most appealing to your demographic, first define who that demographic is.
For instance, if I'm trying to reach new parents, I'd look into and advertise deals on items like infant food, diapers, baby seats, and strollers. Same way, promoting exercise apparel, nutritional supplements, and nutritious meals at a discount would make sense if my target market is health-conscious individuals.
This way, you can boost the number of people who use your affiliate marketing coupon website and your revenue prospects if you take the time to get to know them and the things they're interested in.
4. Study the Competition in the Niche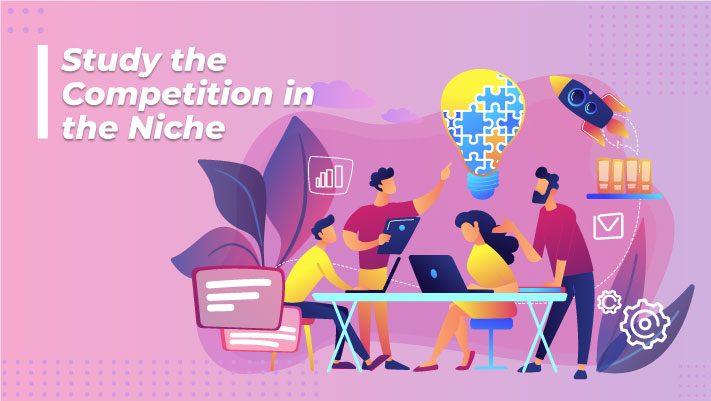 Thanks to the e-commerce boom over the past decade, competition tends to be fiercest in some of the most popular affiliate marketing niches – you'll need to stay committed and take rational measures in your affiliate marketing pursuits to remain relevant in the game.
My suggestion is to pick a niche that has high search volume and low competition, even though it's simpler to stay up on current trends. If you want to go after a crowded niche, look for innovative ideas and marketing strategies to maintain an edge over others while promoting deals and discounts on products.
5. Test and Refine the Niche
I firmly believe that the success of an affiliate marketing coupon website hinges on your ability to try and refine your niche. It's crucial to know your demographic and what they want from a coupon website before conducting any kind of market research.
You can gather in-depth knowledge of your target audience's tastes and interests through polls, research, and focus groups.
After you've collected data from your target demographic, you can begin testing potential niches. Leveraging landing pages, A/B testing, and data analysis can help you achieve this. Each niche's success can be measured and compared to others to find the most lucrative and active ones.
Refine your niche to concentrate on the most lucrative and engaging zones based on the findings of the testing. It could indicate shifting gears in terms of content strategy, adding new products, or narrowing in on a subset of the target niche.
I recommend always being mindful of the fact that market conditions and consumer tastes evolve; it's crucial to keep an eye on and adapt your niche approach accordingly.
Relying and acting on consumer data can keep your affiliate marketing coupon website profitable and pertinent to the target audience by being adaptable and receptive to market shifts.
Conclusion
As affiliate marketers, our job is to identify profitable niches, evaluate them, and then create valuable, relevant content that addresses the issues faced by the target audience and establishes us as an authoritative resource.
Always be cognizant that you can grow your revenue and profitability from your coupon website by either being more innovative than the competition or simply being audience-centric.
So, what's stopping you now? Begin your search for a lucrative niche right away!