Today, remote work culture is nudging more and more professionals to come up with innovative businesses that can be launched from home.
Several benefits come with this transition. You get to be your own boss. With the advances in technology, startup costs are very low. You can hire a team from anywhere. You can also get paid online.
So, are you ready to launch your own enterprise from home? In this blog, we explore diverse online business ideas from home to help turn your entrepreneurial dreams into reality.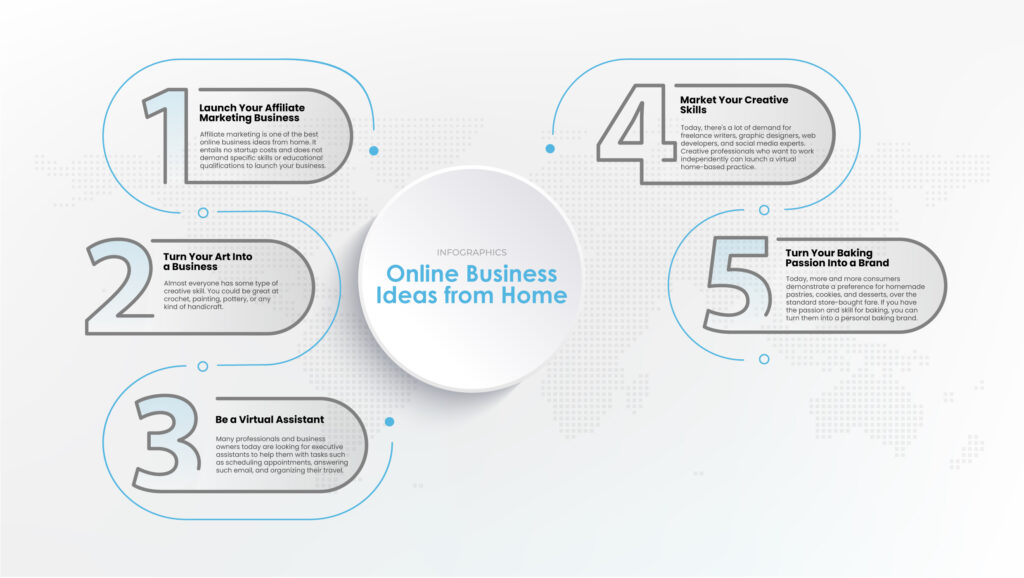 1. Launch Your Affiliate Marketing Business
Affiliate marketing is one of the best online business ideas from home. It entails no startup costs and does not demand specific skills or educational qualifications to launch your business.
This platform enables content creators to monetize their existing and potential audiences by becoming a voice for brands, products, and services they trust. They plug a link to the product in every content piece and earn a commission when audiences click on the link and make a purchase.
This is also a lucrative business for those who are not social influencers. For instance, an affiliate marketer can set up websites that offer consumers valuable information.
Using WordPress affiliate theme by platforms like Clipmydeals.com, you can successfully and seamlessly launch a price comparison, coupon, or cashback website and earn commissions on every sale.
2. Turn Your Art Into a Business
Almost everyone has some type of creative skill. You could be great at crochet, painting, pottery, or any kind of handicraft. If you work at honing your skill, you can turn your art into a product that serves consumers looking to buy unique art.
The growth of social commerce and creative eCommerce platforms has spawned many opportunities where creators can market their art pieces.
You can build a brand around your creative work and also partner with businesses to offer customer-designed gifts. The future is bright for creative entrepreneurs launching their brands from home.
3. Be a Virtual Assistant
Many professionals and business owners today are looking for executive assistants to help them with tasks such as scheduling appointments, answering such email, and organizing their travel.
If you have great organizational skills and some administrative experience, you can use it to your advantage by becoming a virtual assistant. This is a remote position that can be performed from home, leveraging various online tools for communication, scheduling, booking, and organizing.
You can register with a platform dedicated to helping you find virtual assistant gigs to get started.
4. Market Your Creative Skills
Today, there's a lot of demand for freelance writers, graphic designers, web developers, and social media experts. Creative professionals who want to work independently can launch a virtual home-based practice.
One of the best ways to get started is to register with a gig platform as a creative seller. At first, you may not be paid as much. But as you develop your portfolio and work with more clients, you can gradually shift to premium pricing.
This is one of the top online business ideas from home for ambitious professionals who also crave creative freedom.
5. Turn Your Baking Passion Into a Brand
Today, more and more consumers demonstrate a preference for homemade pastries, cookies, and desserts, over the standard store-bought fare. If you have the passion and skill for baking, you can turn them into a personal baking brand.
You could start on a small scale, marketing your products to friends and family. Start marketing your brand through social media to trigger discoverability early on.
Keep experimenting and honing your skill. Once you get more confident, you can take on more ambitious orders.
The Takeaway
Launching one's business from home can be a liberating experience that also brings monetary rewards and recognition for one's work. Platforms such as ClipMyDeals are giving independent professionals the wings to fly by providing the tools to help them successfully launch their businesses from home.