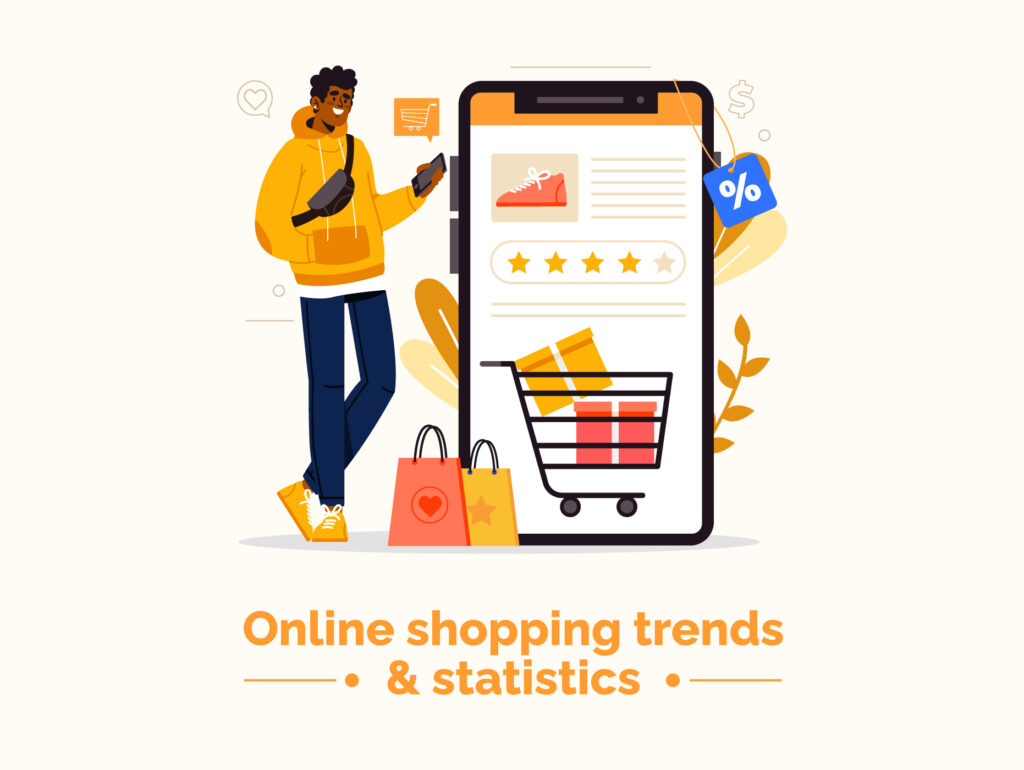 Online shopping is a booming industry that's becoming increasingly popular, especially with millennials. According to Statista, 78% of millennial consumers have shopped online in the last year, and 77% of those consumers have shopped online during the past three months.
In terms of growth, the industry is expected to grow by 5% each year for the next five years. In other words: we can expect online shopping to only continue to grow! This is a huge shift from just a few years ago when only 67% of millennials shopped online at least once a month.
So without further ado, let's dive into the latest online shopping trends and statistics for 2022!
Latest Online Shopping Stats and Trends in 2022
Online shopping has become a very common practice these days. People prefer going online to buy their daily necessities because of the convenience, ease, and fast delivery.
The number of people using the internet for shopping is increasing every day, which makes it a great time to buy things online. Various sites have been introduced recently that help users find the best deals on their favorite products.
Statistics show how online shopping is on the rise:
According to research, in 2022, a total of 2 billion shoppers will make purchases via the internet. This number has increased by 16% since 2020, and it's expected to grow even further in 2022.
Statistics also show that the global e-commerce market is worth $1.8 trillion, and it's expected to grow to $2.3 trillion by 2022.
When it comes to online shopping, the industry has changed dramatically. The world is getting smaller and more interconnected than ever before, and consumers are looking for ways to make their lives easier.
In recent years, many companies have started offering free shipping on orders over $50, as well as free returns. These features make it easier for people to buy things they need or want without worrying about whether they'll be able to get them in time.
However, this isn't just about convenience—it's also about cost savings.
People are spending less money overall as companies scramble to say competitive more than ever before—and that means that more people can afford the same things without having to sacrifice quality or service.
The result? More affordable goods for everyone!
What Can We Expect in the Future?
The future of online shopping is bright. The industry shows no signs of slowing down even as the economy slowly grinds back to normal post the COVID-19 pandemic and the rise of remote work.
It's easy to get lost in the numbers when you're trying to figure out where the industry is headed, but there are a few things you can expect from online shopping trends and statistics:
1) Studies show that mobile will continue to be the dominant platform for online shoppers. Smartphones and tablets will continue to grow in popularity as consumers search for products they want at their fingertips.
2) According to Morgan Stanley, online sales will continue to increase at a steady pace. You can expect that online spending will go up by 5% annually over the next five years, with $1 trillion spent on e-commerce by 2020.
3) Research clearly shows that mobile payments will become even more popular than they already are today. In the coming years, mobile payments will account for over half (52%) of all e-commerce transactions worldwide.
Conclusion
Online shopping is one of the most popular ways to shop. It's so popular that it has become a part of everyday life for many people – and this trend shows no signs of slowing down.
The research and statistics are conclusive – as the world moves towards digital payments and remote business models, online shopping is only set to become more popular, with brick-and-mortar stores continuing to see an overall decline in sales.