Search Engine Optimization (SEO) is the process that helps websites improve their overall organic reach and secure a higher ranking on the search engine results page (SERP).
In the digital era, most purchasing decisions are based on the brand or business's online ranking. Many users will search for coupon codes online to discover amazing deals on their purchases.
So, when it comes to SEO for coupon websites, you need to know exactly what your target audience is looking for and rank for these keywords. But SEO is not a one-time process or an easy hack; it requires constant monitoring, planning, and optimization to get to the top and retain that position.
If you want to improve SEO for coupon websites, some simple tips can help you get started with your long-term SEO approach and make your coupon site appear in top SERPs.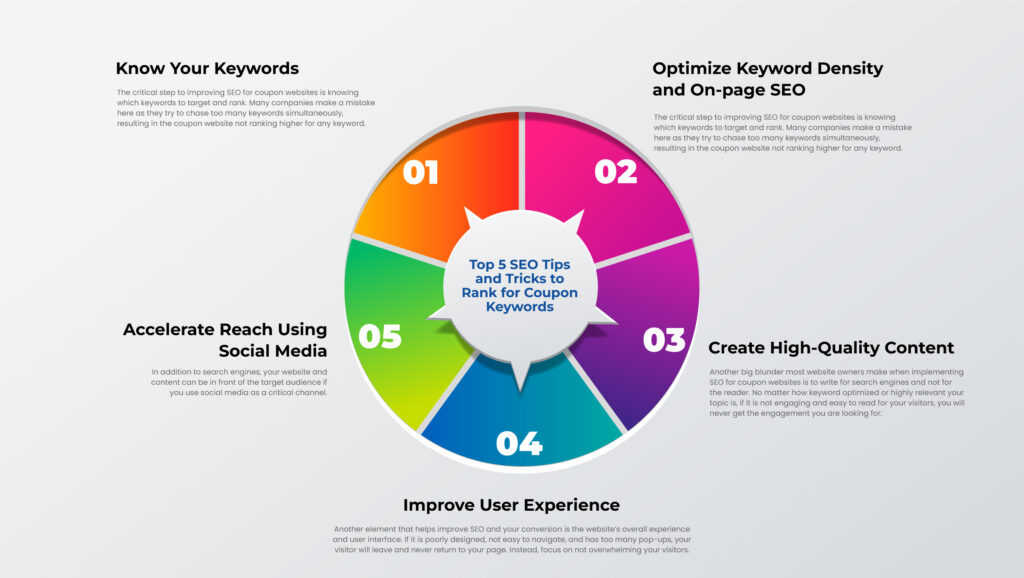 1. Know Your Keywords
The critical step to improving SEO for coupon websites is knowing which keywords to target and rank. Many companies make a mistake here as they try to chase too many keywords simultaneously, resulting in the coupon website not ranking higher for any keyword.
This is why keyword research and targeting are fundamental to ranking and getting fantastic website traffic. Considering keywords that describe your page perfectly also helps convert visitors easily and get you paying customers.
Note that your keywords should also include brand names that you want to target, as this will help you outrank the competition and get conversions from users with a specific search query.
For example, instead of generic keywords like 'Coupon Discounts' or 'Coupon Code Offers,' use Brand + Coupon Keywords like 'Amazon Coupons,' 'eBay Coupons,' 'Flipkart Discounts', and more.
2. Optimize Keyword Density and On-page SEO
Once you know the right keywords for your website, it is also essential to determine the density and usage for search engines to consider your website for its rankings.
An excellent way to rank your coupon website is to include high-quality content and keywords, which are used in the titles, the headings, repeated in the content, and used in other elements like image alt-txt, URL, and more.
The more ways you naturally use your focus keyword and improve keyword density (without overdoing it), the higher your chances of ranking in SERPs.
3. Create High-Quality Content
Another big blunder most website owners make when implementing SEO for coupon websites is to write for search engines and not for the reader.
No matter how keyword optimized or highly relevant your topic is, if it is not engaging and easy to read for your visitors, you will never get the engagement you are looking for.
This can result in lower conversion and higher bounce rates (people leaving your page without interacting with any element). Both these metrics play a crucial role in your SEO ranking.
So while you optimize and create SEO-rich content, do not forget to write value-driven content that solves the problem of your visitors and provides valuable information. Write for humans, and optimize for search engines!
4. Improve User Experience
Another element that helps improve SEO and your conversion is the website's overall experience and user interface. If it is poorly designed, not easy to navigate, and has too many pop-ups, your visitor will leave and never return to your page. Instead, focus on not overwhelming your visitors.
Use a classy design, ensure that no elements are slowing down your page speed, make the website easy to navigate, and focus on your user's wants. Excellent user experience always translates into improved SEO.
5. Accelerate Reach Using Social Media
In addition to search engines, your website and content can be in front of the target audience if you use social media as a critical channel.
Social media is a great way to appeal to the right target audience, boost your reach, and improve your website's organic traffic. Plus, social media traffic is a vital ranking factor and can indirectly help boost your ranking on SERP.
Conclusion: Continue to Track and Optimize
As with SEO or any other aspect of digital marketing, you can never be 100% optimized. You need to keep doing something good or bad to ensure that you rank higher than your competitors and keep up with the algorithmic updates of search engines.
Keep an eye out for the top-ranking keywords and refresh the list regularly to ensure that they are a part of your SEO strategy.
Additionally, keep monitoring your website's metrics and reports quarterly or monthly. It would be best if you keep improving your conversions and user experience to boost SEO, and these tips will help you get the right beginning for your coupon website's SEO vision.