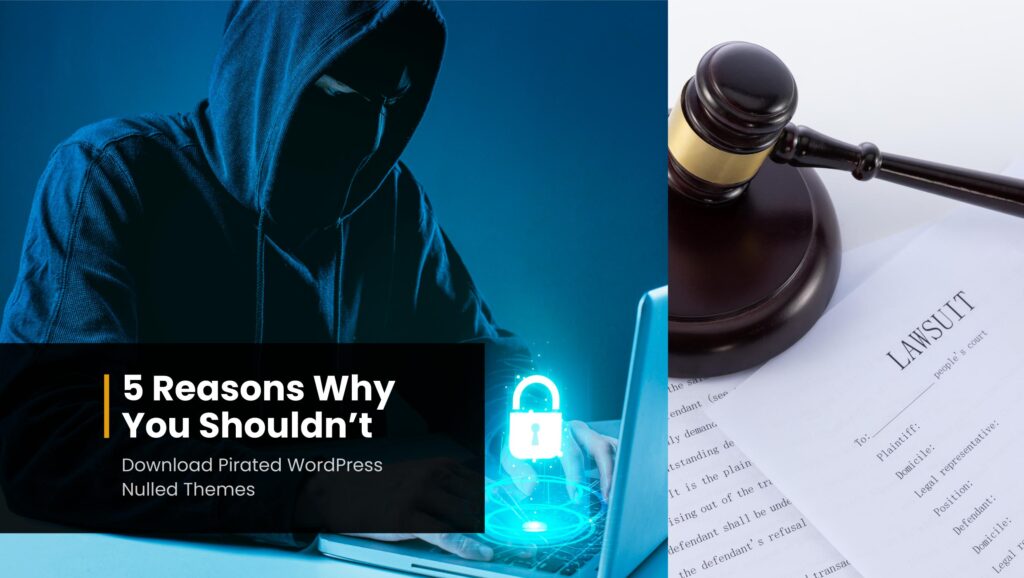 Users of websites designed on CMSs (Content Management Systems), such as Magento or WordPress, often install templates or themes. Captivating themes are important since they enhance the visual attractiveness of a website. It also affects how website visitors find content on such websites.
Although WordPress offers some free themes, they are not as attractive as the premium ones. But, since premium themes are marginally expensive, many website users prefer downloading pirated options, such as ClipMyDeals nulled themes. In fact, over 10,000 WordPress nulled themes are downloaded by users every day around the world.
Some unscrupulous vendors distributing nulled WordPress plugins or themes state that since WordPress works under the General Public License (GPL), you can copy and/or distribute it freely. While such an argument is not 100% incorrect, it is not 100% correct either.
Every time you download pirated copies of WordPress themes and plugins, you not only take away business from legitimate theme providers like ClipMyDeals but also put the integrity and security of your website at stake. Pirated nulled themes and plugins give hackers a valid reason to attack websites.
Read on to find out why pirated WordPress nulled themes and plugins are dangerous and how ClipMyDeals' feature-rich theme can save you the hassle of differentiating legitimate WordPress themes from fake ones.
5 Reasons To Avoid Downloading Pirated WordPress Nulled Themes
Besides being illegal and compromising your website's privacy and security, pirated nulled themes also affect your website's SEO and make you ineligible to download WordPress security updates.
The following are the top 5 reasons why you shouldn't download pirated WordPress nulled themes:
1. Pirated Themes Compromise Your Website's Security and Privacy
You might invest a lot in making your website secure, such as by consulting a reputed hosting provider, utilizing SSL certificates, and the like. However, your efforts can go in vain if you use pirated, nulled themes, templates, and plugins for your website.
The characteristic trait of a pirated nulled theme is that it is a premium theme that has been hacked using malicious and harmful coding. Since the harmful codes are at the core of these themes, they can quickly penetrate your website security and play with your privacy.
Some nulled themes may also use your website as bait to get backlinks that direct to the hackers' sites. Once the hackers gain access to your website, they may use it to redirect visitors to other spam sites, display push ads without your knowledge, or even hack your website and demand some ransom.
The worst thing about pirated nulled themes is that they disrupt the SSL security of your website and steal your customers' private information, such as usernames, email addresses, passwords, phone numbers, etc.
This is why reputed theme providers like ClipMyDeals do not encourage nulled themes. Instead, you can purchase a feature-rich theme at an affordable cost and use it for all your WordPress needs.
2. Pirated Nulled Themes Can Lead to Lawsuits
Unlike ClipMyDeals' themes, pirated WordPress themes and plugins come without copyright or license since nulled theme providers remove copyrighted resources. Since pirated nulled themes are basically stolen, they are illegal and outlawed.
So, if the original creator of a WordPress theme finds out that you are using their work, they may initiate legal proceedings against you. This means you have to pay huge lawyer fees and compensate the original creator for their losses.
So, do not look for ClipMyDeal's free downloads since using ClipMyDeals' nulled theme might land you in trouble.
3. Pirated Theme Creators Offer No Support
If you purchase any service from a digital service provider, they offer some kind of warranty or support to help you when you are stuck. However, nobody will offer you any support if you download pirated themes. So, whatever happens to your theme or website will be solely your responsibility.
It is not uncommon for some users to think that they can do without any professional support. But, this is far from the truth since nobody can assure whether a theme will work perfectly all the time or on all devices.
Also, original theme creators create exhaustive documentation and offer support so that theme users can get help whenever required. ClipMyDeals enables you to seek out support as and when you need it.
4. Pirated Nulled Themes Negatively Affect SEO
Many website owners invest a lot of money and time in Search Engine Optimization (SEO) to ensure their websites rank on search engines like Google. However, one pirated nulled theme can quash your efforts since it contains malicious codes and spam links. If visitors to your website get redirected to spam websites, they will probably never visit your website again.
Google scans the content of every website before putting it on the top of the search results page. Websites containing malicious links never get the focus they deserve, irrespective of how well-optimized the SEO of such websites is. Hence, looking for ClipMyDeals' nulled theme free download can not only compromise your website's security but also affect your SEO.
5. Discourages Genuine, Innovative Developers
WordPress theme and plugin creation take time and effort. Developers create them with the hope of getting paid for their efforts. They also maintain websites and assign professionals to offer support to users.
However, when you download pirated nulled themes and plugins, you deprive such honest developers of their revenues. Moreover, if they do not invest time in new theme creation, you cannot get original content in the future.
Hence, downloading pirated nulled themes is a strict no-no if you want to play your part in making WordPress themes better.
Conclusion
Now that you know the demerits of downloading pirated nulled themes, check out ClipMyDeals' feature-rich theme to increase your website's appeal.
ClipMyDeals is the best destination to get the complete suite of WordPress affiliate features, including coupons, price comparison tools, cashback, browser extension, and coupon feed integrations.
Moreover, ClipMyDeals offers lifetime free updates and support, no recurring cost, preset colors, 180 days of buyer protection, rewards and bonuses, and free Android and iOS apps. Buying the authentic ClipMyDeals theme from the official website is worth all the money, doing away with the need to buy a nulled version or look for free downloads.