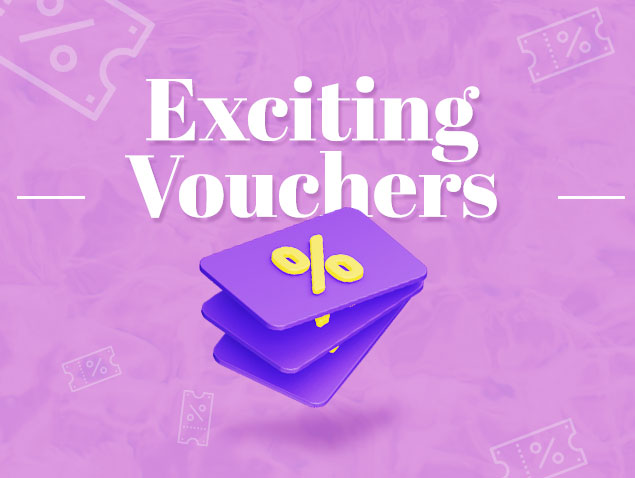 Voucher code websites are a great way to save money on purchases you make online. You can use them to buy airline tickets and hotel rooms, but they can also be used for other things like crowdfunding projects.
The most common way how voucher code websites work is that they present you with all available voucher codes you can use on their website. You can then click a link they provide to be redirected to the target website with the voucher code already applied.
This way, you don't need to enter any code at checkout; simply clicking the link will apply the desired code and discount!
How Do Voucher Code Websites Work?
Many times, voucher codes are given out by businesses that are looking to grow. It's a smart and effective way to sway customers to purchase something from your store by providing a voucher code that discounts the final bill or credits a cashback.
Voucher code websites provide you with a variety of free-to-use coupon code links on their site. Usually, they'll tell you exactly how much something costs or they'll give you a discount coupon link by showing you a code that gets rid of the full price.
Once you've clicked on the one you want to use, the coupon website deposits a cookie on your device as you are redirected away to the retail online store. When you purchase on the target retail website, the coupon site earns a commission from your purchase, and the online store earns a sale.
It works out well for you, the customer, too, because you end up getting a better deal by not paying full price. It's also great because you can use these vouchers to purchase products, services, and other items from the website's partner merchants.
Benefits of Voucher Codes for Shoppers
Voucher code websites are popular because they allow you to easily share your codes with friends and family, so they can also benefit from using them. And since there's no middleman handling all of this transaction data, everything goes much more smoothly than if you were using something like PayPal or Venmo.
There are many benefits to using voucher code websites. Some of these benefits for shoppers include:
Saving more money than you would have without applying the voucher code.
Further accessing greater offers and discounts.
Receiving rewards points which can then be redeemed against future purchases elsewhere online or in-store.
Some retailers offer free delivery on orders containing vouchers. You might even receive special offers when using these codes, such as gifts with purchases or loyalty points.
Next, let's take a look at some examples of top voucher code websites.
Examples of Top Voucher Code Websites
While the voucher code website space is still relatively in its infancy, there are plenty of good websites out there that you can try.
Some of the most common voucher code websites on the internet today are:
Zifup.com
VoucherCode.org
Groupon.com
CouponCode.com
Vouchercode.co.uk
Vouchercode.ca
RedeCoupons
Of the many choices out there, Zifup is one of the top-notch voucher code websites. It's got a huge selection of vouchers, so you can choose whether you want to get your money off a hotel or restaurant bill or buy a gift card for yourself at the store!
The Coupon Website Business Model
Vouchers are coupons that can be redeemed by consumers at participating retailers or restaurants. They typically contain special discounts or offers only available through the company issuing them.
The coupon website business model is based on affiliate marketing, publishing coupons, and selling ad space.
Two campaigns that the coupon website runs are CPL (cost per lead), where the advertiser pays a pre-established price for each lead generated by the publisher, and CPS (cost per sale), in which case the advertiser pays the publisher after the sale is made.
The coupon website business model aims to benefit customers by providing them with a deal for a product they might be interested in, which they would otherwise pay more for. Retailers benefit because of the increase in sales.
Coupon sites can provide a lot of value to customers and grow quickly under the right circumstances. It's common to have a large number of customers because of the win-win nature of the business model for both businesses and the customer.
Regularly promoting products and deals can also improve revenue and boost sales, meaning that coupons can be displayed to potential customers in the form of website or video advertisements.
How to Use a Voucher Code Website
The process of using a coupon on a voucher code website, like Zifup, is fairly straightforward:
First, you find a coupon code (e.g., for Domino's) on the coupon website and click on the coupon.
A cookie is then deposited to your device, and you're redirected to the merchant's website (here, Domino's), where you need to insert the coupon code to redeem the discount.
Once you make a purchase, the coupon website earns a commission (from the merchant/vendor) for the sale.
You benefit by having a discount applied on the purchase, while the vendor/merchant benefits by earning a sale.
Now, let's understand how the coupon website business model works to earn money and stay profitable.
Benefits of Creating a Voucher or Coupon Code Website
Creating a voucher code website can have many benefits. It's important to remember that when you use voucher code websites, you're not just making money – you're also helping people with limited income and time.
With that said, the benefits of creating a voucher code website are as follows:
You get to work from home. You can set your hours and create a schedule that works for you. Plus, having kids or other family responsibilities can free up valuable time in your day.
The potential is high for long-term financial success. The more people who use your website as their main source of income, the more money they'll spend on gift cards – that means more business for YOU!
It's an easy way to invest in yourself. You can grow your knowledge base without spending much money upfront or worrying about managing an entire portfolio of investments.
You get paid for referring people who sign up for your website and buy gift cards with their vouchers. This is true even if they never use them!
Conclusion
Voucher code websites are a great way to save money on products and services. They're also an easy way to find deals on things you need and want and can be used in many different ways.
The best part of how voucher code websites work is that they result in no extra cost to the consumer while providing them with a good deal and increasing the overall sales revenue for a company.
Companies can earn more sales from customers that would not have otherwise been possible without the voucher code discount. In this way, coupon code websites are a win-win for all, the business and the customer. So what are you waiting for? You can start your own coupon website easily using ClipMyDeals coupon theme.