Thinking of starting your affiliate marketing business? Then you are going to need a stellar website that gets the job done for you. The fastest way to get started is to get a WordPress theme that's pre-optimized and looks great overall.
In this blog post, we are going to look at the best WordPress theme for affiliate marketing from ClipMyDeals that will get you started in no time and help you generate and convert more leads.
If you want a theme that takes care of all the hard work for you, then keep reading as we discuss the features that make it the absolute best!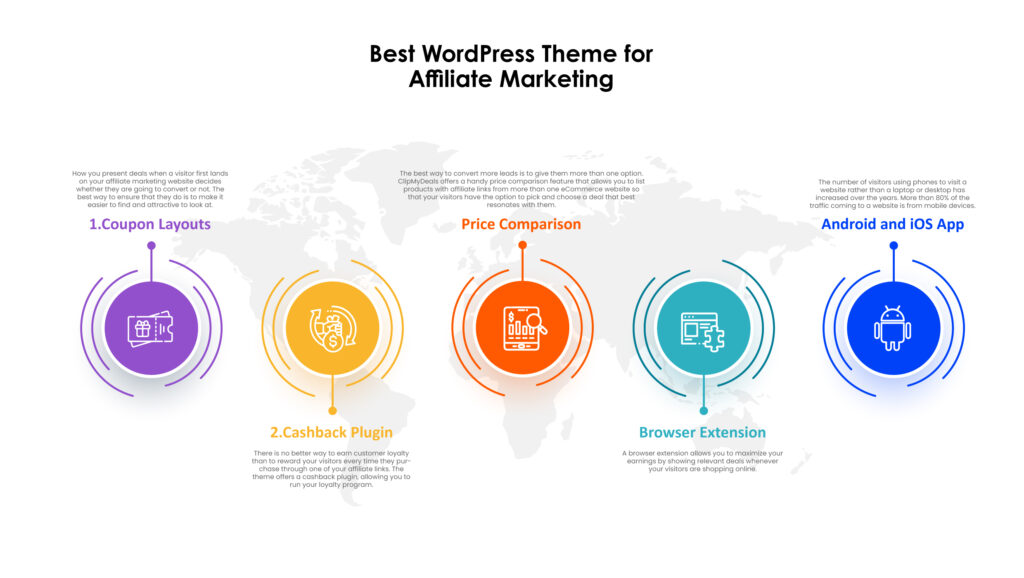 Coupon Layouts
How you present deals when a visitor first lands on your affiliate marketing website decides whether they are going to convert or not. The best way to ensure that they do is to make it easier to find and attractive to look at.
ClipMyDeals' theme provides you enhanced flexibility to choose between multiple layouts such as list layout and 2 and 3-column grid layouts. Moreover, you get a ton of homepage styles to welcome your visitors with a video, banner, or a minimalistic clean homepage.
Cashback Plugin
There is no better way to earn customer loyalty than to reward your visitors every time they purchase through one of your affiliate links. The theme offers a cashback plugin, allowing you to run your loyalty program. Moreover, it only requires a one-time payment for the plugin, unlike 3rd party subscription services that charge a monthly recurring fee.
Here's how it works:
The user logs in to your website and clicks on an affiliate link
They complete the purchase
A user-wide sale is recorded in the affiliate program once the purchase is complete
Transaction details are sent to your website
The user makes a withdrawal request
You can pay the user via a preferred option
Price Comparison
The best way to convert more leads is to give them more than one option.
ClipMyDeals offers a handy price comparison feature that allows you to list products with affiliate links from more than one eCommerce website so that your visitors have the option to pick and choose a deal that best resonates with them.
You can also create detailed product pages for individual products with media-rich content and a list of other similar products to help you convert more leads.
Browser Extension
A browser extension allows you to maximize your earnings by showing relevant deals whenever your visitors are shopping online.
The ClipMyDeals WordPress theme shows coupons and deals right in the browser, which is a bonus since it is highly unlikely that your users would migrate to a competitor site when the best deals are displayed proactively at the right time.
Android and iOS App
The number of visitors using phones to visit a website rather than a laptop or desktop has increased over the years. More than 80% of the traffic coming to a website is from mobile devices.
Therefore, it's important that your website is either optimized for mobiles or, better yet, has a dedicated app that users can download and use.
ClipMyDeals offers you the option to get a dedicated Android and iOS app for your affiliate website for a one-time cost that is automatically updated to reflect any changes you make to your website.
The app is 100% white labeled to send a positive signal to major search engines, helping you rank better and gain customer loyalty.
Conclusion
ClipMyDeals has everything you would ever need in a WordPress theme, making it the best WordPress theme for affiliate marketing, with unmatched features that make it stand apart from any other theme in the market.
If you are really serious about starting a successful affiliate marketing website, then don't forget to check out this amazing theme that delivers what it promises!