Documentation
Sitewide Settings
Go to WordPress Admin > Cashback > Sitewide Setting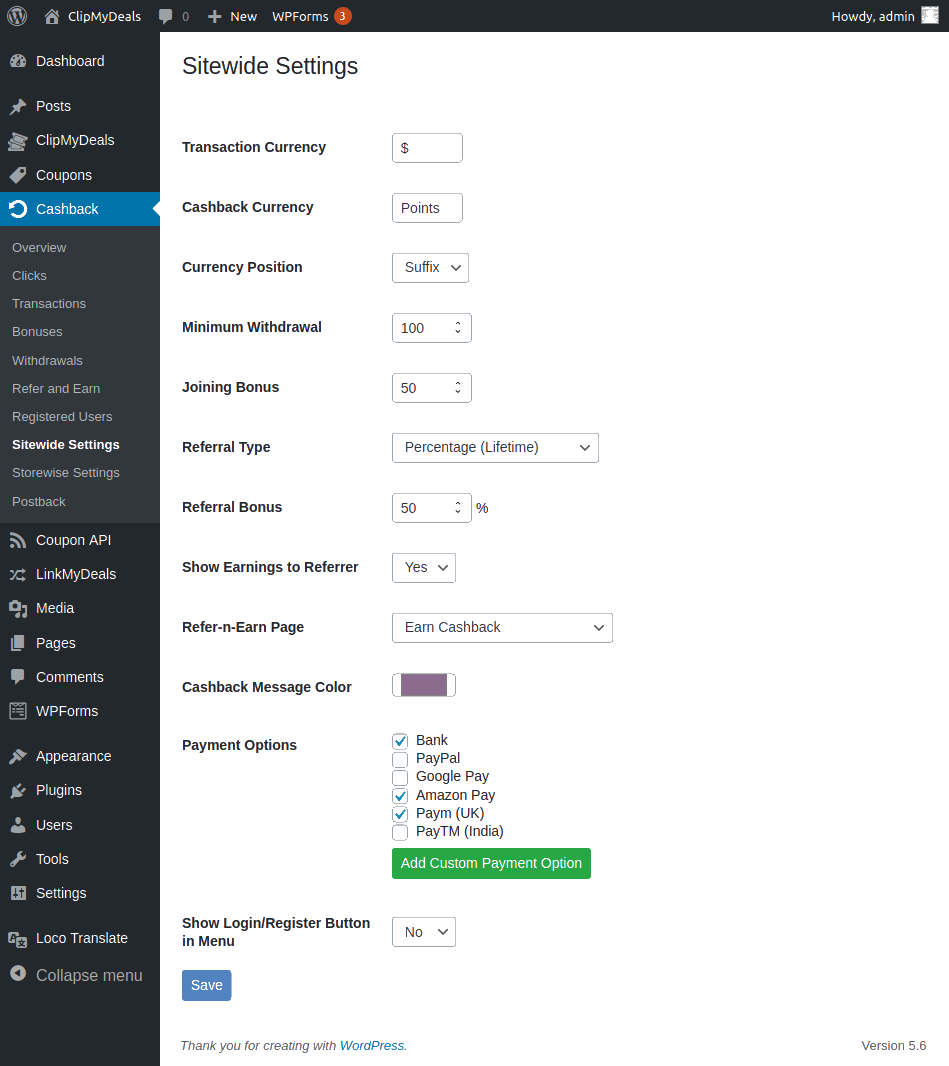 1.
Transaction Currency:
Set transaction currency, you can use any Currency Symbol. This relates to currency in which the sale value is to be displayed.
2.
Cashback Currency:
Set cashback currency, you can use any Currency Symbol. This relates to currency in which user's earnings are to be displayed.
3.
Minimal Withdrawal Amount:
Set the Minimal Withdrawal Amount after which the user will be allowed to withdraw money. Unless the user reaches this amount, he won't be able to access the
withdrawal
request form.
4.
Joining Bonus:
Set joining bonus, the joining bonus amount will be added to the user account as soon as a user get register with your site. Set it to '0' to disable this feature.
5.
Referral Type:
Select the Referral Type
Fixed (On first Withdrawal): The referral bonus will be given to referrer only once i.e. after the referred user registers on your website.
Percentage (Lifetime): The referrer will receive referral bonus for lifetime in the form of a percentage amount on each withdrawal by referred.
6.
Referral Bonus:
Set the amount if you have selected Fixed as Referral Type eg. $50.
Set the percentage if you have selected Percentage as Referral Type eg. 5%.
Note:
If referral Bonus is set to '0' no referral link will be created.
7.
Show Earning to Referrer:
Set it 'Yes' if you want the referrer to see earnings of the referred under 'refer and earn' tab.
8.
Refer-n- Earn Page:
From the drop-down select the Refer And Earn page you created using the shortcode "[cmd_registration_form]". This setting defines the page where the referrer has to make the referred user register.
9.
Cashback Message Color:
If you want to customize the message color for cashback shown on each offer, select color of your choice.
10.
Payment Option:
Select from the list which payment option you want to enable for the user, for making payment to user.
11.
Show Login Button:
If you want to allow user to register on your website using a button in menu, Select 'Yes'.
12.Save the Sitewide setting.
---
Help Topics:
---
Last Updated 2 years ago
---