Stylish for Visitors
List or Grid Layouts

Online Codes & Deals + Offline Printable Coupons

Cashback Messages + T&Cs on each offer

Detailed Cashback Clicks+Earnings Summary

3 Homepage Styles (Video / Sliders / Banner)

25 Preset Color Combinations

Large Banners on Store pages to boost Sales

Separate Color Graphics for each Store's Coupons

Maps & Video Widgets for each store

Superfast Page Speed

Social Media Optimized

Mobile-First and Responsive Design
Easy for Admins
FREE Mobile App

FREE 30 Day Subscription of Coupon API

Pre-Integrated with LinkMyDeals Coupon Feed

Start a Coupon+Cashback Website in just 5 minutes

Auto-Import Cashback Transactions & Manage Payouts

Full control on Cashback Amounts & Approvals

Share Offers to Facebook and Twitter from Admin Area

WordPress Customizer

Widgetized Sidebar & Footer Area

Complete On-Page SEO

Translation & WooCommerce Ready

Compatible with Visual Composer, Elementor Page Builder, etc.

100% WordPress Standards
Coupon Layouts
Show Codes & Deals with List or Grid Layouts
Cashback Plugin
Extend ClipMyDeals into a fully-functional Cashback Website
Control for Admins
Cashback Messages + T&Cs
Automatic Calculations
Transactions Details
Manage Bonuses
Process Withdrawals
Easy Editing & Corrections
Import Offline Reports
Payout Management
Reports for Users
Joining Bonus
Refer & Earn
Click Report
Transaction Records
Earning Report
Payment History
Profile Management
Dashboard Stats
Real-Time Transactions
Add Postback to any Affilaite Program & get live sales record.
Automatic Calculations
Set your cashback formula for each store and let the system do live calculations.
Refer & Earn, Joining Bonus
'
Use your loyal users to grow your business. Give incentives to your users like a Referral Program, Joining Bonuses, or any Festive Bonuses as you wish. Such tactics, that make use of personalized social promotions, have far better returns than any other marketing spends. So take your website to the next level, with such built-in features.
Coupon Feed Integrations
As an Affiliate Marketer, your main task is to market & promote your Coupon Website. And to confidently drive traffic, you need to keep your website up-to-date.
CouponAPI.org
CouponAPI.org collects a Coupons & Deals from popular Affiliate Networks and imports it to your website using their WordPress Plugin. All you need to do is enter Affiliate IDs, and subscribe to add as many stores as you want. You website will be automatically updated on a near-real-time basis from all your Networks.
LinkMyDeals.com
If you are a pro, you will need Coupons & Deals from "All Official Sources", not just Affiliate Networks. For this, we provide pre-integration with LinkMyDeals Coupon Feeds which imports all offers from Store websites, banners, Email Newsletters, SMS/App Notifications, Social Media, networks & other such sources.
Android App
With more than 70% of traffic coming from mobile devices, Mobile App is now a necessity.
100% FREE! No Ads, No hidden costs... (Worth $200)
100% White Labelled
Updates to your theme and content will automatically reflect on your Mobile App
Increases Customer Loyalty
Brand signal to Search Engines
25 Preset Color Combinations
With 70+ Design Options and 9 popular Fonts, the possibilities to customize the look & feel of this Coupons Theme are virtually endless.
To make it easier for you, we have pre-configured 22 most successful color and font combinations on the internet which you can directly choose for a quick start.






Printable Coupons with Barcode
Want to distribute coupons for physical stores? Printable Coupons can be redeemed at a store's checkout counter. It prints with a Code-128 Barcode for faster checkout.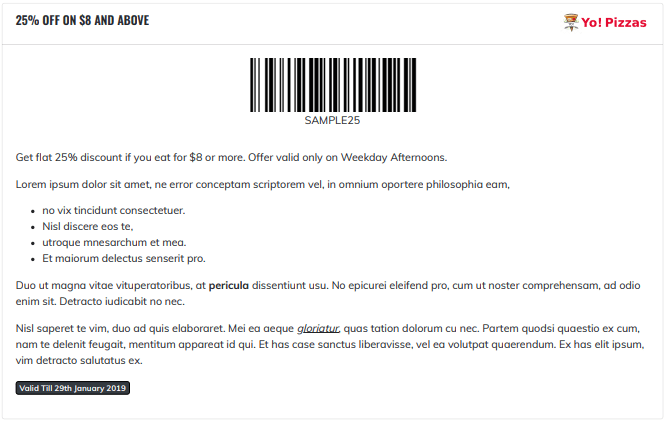 Location Taxonomy Option
Do you run your website across multiple countries or cities? If yes, you can enable Location taxonomy and classify offers by locations.
Add/Edit Locations
Location-specific Offer Pages
Map Widget in Sidebar
Location Dropdown in Advanced Search
Location List Widget in sidebar/footer
Convinient browsing for visitors
Ranks higher in Local Searches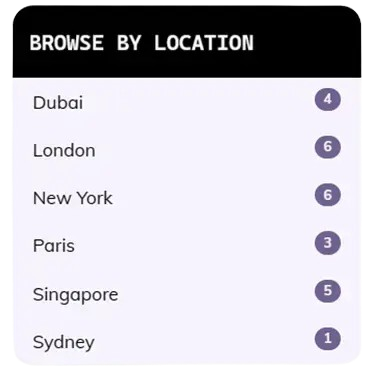 Graphics that Increase Revenue
A clean design or a convincing banner can turn an undecided visitor into a confirmed sale. An of course, more sales means more affiliate commissions!
Different Colors for each Store's Coupons
This one feature alone makes ClipMyDeals better than any other WordPress Coupon Theme in terms of increasing affiliate sales.
You can match the graphics of each coupon/deal with the usual colors of that store.
This gives a uniform experience to your visitors. It makes it easy for your visitors to browse the category & search pages. And also gives a sense of relation to the store itself.
Exciting Banners on Store Pages
Stats have proved over and over that e-commerce shoppers are impulsive buyers.
ClipMyDeals Theme has a banner position on each store's page. This not only looks awesome, but they can also increase your conversion rates by 40%.
Widgetized Sidebar & Footer Areas
Sidebars are the most effective area on your website to place relevant widgets for your users to interact and to find useful information.
In-built Widgets for On-Page SEO value
Map Widget
Add Locations or Headquarters to Store Pages. This not only gives additional info to the visitor but also indicates high-quality and detailed content. (Yes, Search Engines love that).
Video Commercials
Your visitors are more likely to use the coupon or complete the sale after seeing an interesting Ad or a relevant video. Videos also increase your chances of ranking higher in Search Engines.
Popular Store Logos
Popular Store Logos helps you retain your traffic for a longer duration by suggesting more stores which they would like/ The more time visitors spend on your website, the better signal it sends to search engines.
Category/Store Lists
Category and Store lists are vital navigation links to internal pages of your website that cannot be accommodated in the top menu. Internal Links are one of the top 5 ranking factors in Search Engines.
Other Widgets Ideas for Customer Experience
Newsletter Subscription
Collect Email addresses of your visitors with plugins of Email Marketing Platforms like MailChimp, etc.
Social Sharing
Make it easy for your visitors to share your lovely and useful website with their friends and family.
Page Like/Follow Box
Let your visitors turn into loyal fans and followers by placing Facebook, Twitter and other "Like Boxes".
Contact Form
User feedback can help you improve and grow. Let them contact you using plugins like Contact Form 7, etc.
Other Features of our theme
We are so excited and proud of this Coupon Theme. We would have loved to talk about each and every feature in more details, but it is not possible. So here are a few more that we couldn't talk about.
Mobile First & Responsive
Clear & Complete Documentation
Demo Websites
ClipMyDeals is a 100% WordPress Theme. It comes with plenty of design customization options and all the plug-n-play powers of WordPress.
You can literally customize it to the extent that nobody can even recognize which theme you are using.
Backend Screenshots
The Admin/User area is completely based on WordPress Standards. So if you are used to WordPress, you feel the same power & and all the ease that comes with it.
Testimonials
Join hundreds of happy customers using ClipMyDeals for their Coupon & Cashback Websites
Dolare A.
100BestCoupons.com
These guys are awesome! I had been looking to upgrade my website since some time when I came across ClipMyDeals. When I deployed it, something extra-ordinary started to happen. I could see more and more returning visitors in my analytics. I think because my website was now much faster and easier to use. Over a period of 2 months since I have installed this theme on my WordPress site, I have seen a jump of about 15% in my revenues without any effort.
Sharik Shaikh
CouponsDhundo.com
I would like to thank ClipMyDeals team for such a wonderful theme. It was very easy to start my Coupon website with the help of ClipMyDeals. I don't think any freelancer could have developed such a stable and easy to use theme for me. Plus, I am getting all this in WordPress, which I am comfortable with. I am really happy with the support as they respond to tickets very quickly. Wish them all the best, and thank you all once again.
Frequently Asked Questions
Got a question? We've got answers. If you have some other questions, see our support center.